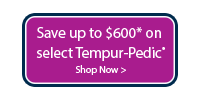 This Sleep is Power
Jordan's Furniture's experience with Tempur-Pedic® is unequaled. We were the first furniture retailer in the U.S. to offer Tempur-Pedic®. We sell more Tempur-Pedic® mattresses than any other retailer in New England.
Our selection of Tempur-pedic® mattresses is extensive. Collections include:
Adapt®
ProAdapt®
LuxeAdapt®
ProBreeze®
LuxeBreeze®
Tempur-Pedic® didn't just meet the standards for restorative sleep, they set them. Their new collections are more innovative than ever. Tempur Material® continuously adapts to the individual to provide a sleep experience like no other. Premium support, maximum pressure relief, and lack of partner/motion disturbance combine to make it the number one recommended bed in America. The Breeze® models with the advanced combination of materials are Cool When You Lie Down. Cool When You Fall Asleep. Cool Throughout The Night ®. Breeze provides maximum airflow and breathability to help you sleep up to 8 degrees cooler ®.
The collections are designed: So you can fall asleep faster. Stay asleep longer. Relax more deeply. And wake up feeling rejuvenated. ® Tempur-pedic® is like no other mattress and BridgeIT™ provides a mattress fitting experience like no other.