Free from harmful chemicals, there's an organic mattress for everyone in the family.
Naturepedic is a family owned business offering the very best in organic mattresses. Made in the U.S.A., skilled Amish craftsmen utilize premium organic materials to create innovative, supportive, comfortable sleeping surfaces.
Jordan's Furniture proudly features Naturepedic organic products for babies and kids. Naturepedic is loved by parents, doctors, and independent evaluators and has won more awards than any other organic company making baby & children products.
Follow the link to see Naturepedic's certifications and awards, and learn more about Naturepedic's organic standards.
For Baby
Babies and toddlers spend 10-14 hours a day sleeping and playing on a crib mattress. As such, for the first few years of a child's life, the mattress is the single most prominent object in the child's environment.
Naturepedic's list of priorities for baby products includes:
No harmful chemicals.
No allergenic materials.
Natural, organic and renewable materials wherever possible.
Practical design (e.g. easy-to-clean waterproof cover).
Third party independent testing and verification.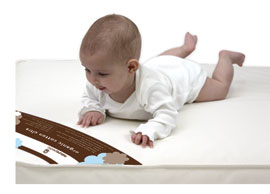 For Kids
With hypo-allergenic design, and organic materials, your child can breathe easy on Naturepedic.
Our kids spend nearly half their early lives in bed. Sleep is a time for their bodies to rejuvenate so they can be ready to learn and play the next day. Just like organic vegetables are free from harmful chemicals and pesticides, so too are mattresses that qualify for organic certification. This means less chemical exposure for your child and a healthier planet for us all.