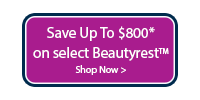 With famous Pocketed Coils that reduce partner disturbance.
Jordan's Furniture is the #1 Beautyrest retailer in New England. Offering the best in the way of value, innovation, and consumer satisfaction is our shared goal! Beautyrest has established a legacy of innovation and trust, helping millions of people sleep better all over the world.
Our selection of Beautyrest mattresses is extensive. Collections include:
Beautyrest Silver
Beautyrest Platinum powered by SleepTracker
Beautyrest Black powered by SleepTracker
With World Premier support systems designed for ideal sleep temperature, Beautyrest doesn't just make mattresses so you can get better sleep, they make them so you can Be More Awake™. Each collection features the legendary Beautyrest Pocketed Coil, best known for its support and assistance with partner disturbance. The coil system, the combination of breathable, supportive foams, and innovative temperature management designs in all collections, are just a few reasons to consider Beautyrest.
Our Beautyrest Platinum, and Beautyrest Black collections are powered by Sleeptracker. Instead of wearing a device to bed, the mattress becomes a Smart Bed™. Monitor your sleep, better understand your sleep, and ultimately improve your sleep. One benefit of being #1 in New England, Jordan's delivers and installs the Sleeptracker rather than rely on mail-in redemption, as is the case with other Beautyrest partners. You download the app, and you are tracking sleep, night 1!
Beautyrest is the original maker of pocketed coils, in fact, they still make their own World Premier Support System. Their 90+ years of experience with the technology plays a large role in their excellent customer satisfaction track record.
Visit a Sleep Lab location near you, and try our Beautyrest mattresses to see if they're right for you.