Introducing Canadel U Design
Did you know that you can customize every aspect of your furniture: color, shape and finish?
You carefully handpick the cabinets, appliances, and materials in your home and you search for things that are both enduring and inspired. When it comes to choosing your tables, chairs and stools, Canadel is in a class by itself. Made from 100% solid birch, one of nature's hardest woods, our furniture is well-protected and stain resistant.
Canadel, an Open Palette to Your Imagination!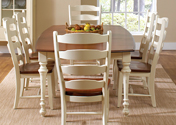 Canadel Collection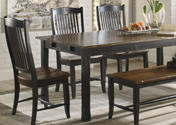 Champlain Collection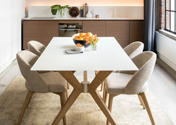 Downtown Collection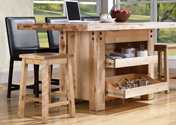 Loft Collection
Perfect Fit
Like many consumers, you may have a difficult time visualizing what new furniture will look like in your home. With Canadel, you choose the table dimensions you want for a perfect fit.

With a selection of over 30 sizes and up to 168" in length, you can be sure that we have the right size and style for your home.

Precise Design
Select your style and see the table and chairs that fit into that category. What is your style? Classic? Traditional? Transitional? Contemporary? Country?

Are you more casual than formal? Counter-height tables make dining more casual and relaxed. They are also a great height for entertaining as few as 2 or as many as 12 guests!

Color Complement
There are no rules and no limitations. Bring richness and harmony to your life by complementing your home with the color and quality you prefer.

Select from over 40 wood colors in 3 different finishes, all protected with a catalyzed lacquer.

Store More
Additional space is always needed for storage and display. With Canadel's wide variety of storage units, you can select the perfect piece to complement your dining set or choose one to use in your great room as a bookcase!

Whatever size is needed you are sure to find it!